In the third and last round at the January 24, 2009 Hamilton Quads, it was do or die in the six man swiss. My score was 1 0 1 which means I had only one win so far.
I neede a big win in the last round to get second place and the prize money.
My opponent Big Sal is a tough opponent and he crushed me the last time I played him a few months ago. A fellow chess player Atomic Patzer finds Big Sal a difficult adversary over the board. In fact the last time Big Sal played Atomic it ended in a hard fought draw.
On my move for Black, I gave a tacital shot ....19. Rook takes Bishop, if Whites Queen takes Blacks's Rook , he walks into a knight fork with Whites Queen and Kind , so White can't touch that rook.
Black moves Rook takes Bishop on D4 !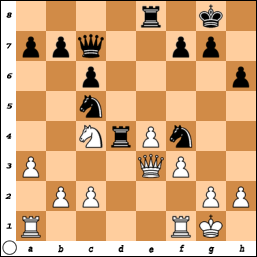 After that I improvised by moving Black's Rook back and swinging it over to to White's G file, focusing on White's King. Fortunately for me , White did not see any real mating nets forming and instead decided to take my hanging knight which resulted in a forced mate for White.
The game is posted below in a Chess Flash playing board. Jim West if you look at this game maybe you can find a faster way for Black to win.
SalFrtz8.pgn
Full Analysis of Sal vs Diamondback at Hamilton Quads
SalAnalysed_0.pgn